This photo is of the corner of my bedroom - complete with "Dobbin". I had him when I was 5, he now holds 4 saddles ... 1 was Jaykub's and the other 3 were DJ's. One from when he was broken, then as he grew (but he rolled wearing that one and broke the tree), and then the last one I used for him. The shoes on the front are the first set DJ ever wore, as well as the first set that Jaykub wore after he became mine.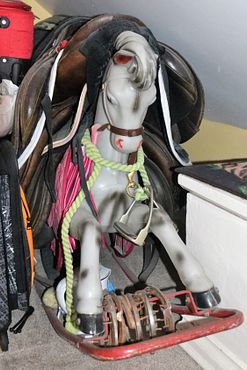 However, as I have just seen the picture
curiouswombat posted I had to post these extra photos taken a couple of years ago. They are the memorial for the horse Briggs, later Sir Brigs, one of the only horses to survive the Charge of the Light Brigade. Yes, the family knighted him, as he lived another 10 years after that disaster.