So, for bridge I offer a selection:
#1 - this is how we cross the river from Virginia to Maryland where I live. In lieu of an actual, you know, bridge. :)
#2 - This is what happened to the "bridge" across our stream last year. So again, this is not-a-bridge. :)
#3 And this is a little bridge across my make believe river in the front yard.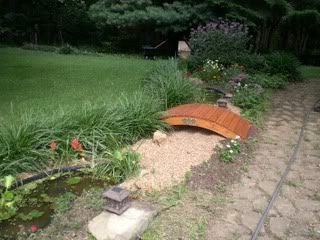 #4 A real bridge! I think I've shared this one before for "tower", but it was the only real bridge I could find easily. I thought I had a picture of Iron Bridge, but I guess my hubby must have taken all those pics. *sigh*